Are you ready to tell your Data Story?
"It's really about how programs are using data to set goals, to track those goals, to do their ongoing monitoring and self-assessment, and then to use that data for continuous quality improvement."

A current program as of November 7, 2016, must implement a program-wide approach for the effective and timely implementation of the changes to the program performance standards, including the purchase of materials and allocation of staff time, as appropriate.

"They also really are around using data to have programs go through a continuous quality-improvement process using the data that they have about the children and families in the communities that they're in, that we're moving away from a process approach and to try to make it more about outcomes."

A program, in collaboration with the governing body and policy council, must establish goals and measurable objectives...

"One key feature is, again, there is a much stronger emphasis on using program data for ongoing monitoring and continuous improvement. Again I think, it is less about the how and more about focusing on really what the intended outcomes are."

In order to ensure effective ongoing oversight and correction, a program must establish and implement a system of ongoing oversight that ensures effective implementation of the program performance standards, including ensuring child safety, and other applicable federal regulations.

"And again, a heavy emphasis on asking programs to demonstrate how they are going to monitor program performance and be held accountable. And I think that that's really important. It's not just that you've got goals, it's now being held accountable to showing what progress you are making in those goals."

Conduct a self-assessment that uses program data including aggregated child assessment data, and professional development and parent and family engagement data as appropriate, to evaluate the program's progress towards meeting goals established under paragraph (a) of this section, compliance with program performance standards throughout the program year.

"One of the keys that is important for programs to think about is how the data is presented. We talked about that the board and policy council need information. I think what's critical is how is it presented? Is it presented in a usable fashion?"

A program must implement a process for using data to identify program strengths and needs, develop and implement plans that address program needs, and continually evaluate compliance with program performance standards and progress towards achieving program goals.

"The change here is now we've codified the whole issue around data and usage and collection. So it becomes I think much more serious, much more intentional and we know the programs can do this."
Implement Standards

A comprehensive and effective implementation plan ensures you are complying with local, state, and federal standards.

Track Findings Accurately

Ongoing monitoring against performance standards enables you to find and track your strengths and weaknesses, better target your resources, and achieve your goals and objectives.

Analyze Trends & Produce Reports

A sound monitoring approach instills confidence that your program is living up to its promises and fully implementing new performance standards. Trend analysis and reporting offer program transparency and ensure early intervention.

Drive Decisions with Data

You are being asked to do more with less. Let your data help pave the way. Target resources more effectively with data driven decision-making.

Structure & Control Your Data

Data collection is not enough. It's how you structure, store, and share your data that lets you evaluate and act on your data to achieve positive outcomes and continuous program quality improvement.

Reduce Inspections

Compliant programs receive infrequent, shorter, less intense, less time-consuming reviews. Noncompliance leads to more comprehensive reviews.

Increase Safety

The safest early childcare programs monitor themselves. Concerns are identified and addressed early. Children are safer.

Achieve Quality

Meeting regulations is only the first step to quality. Ongoing monitoring and program improvement are the gold standard of a quality program. It's not just about compliance.
Provide a secure, dynamic, cloud-based platform to implement performance standards and collect, evaluate, and act on your data
From question to decision, act on your data
Learn More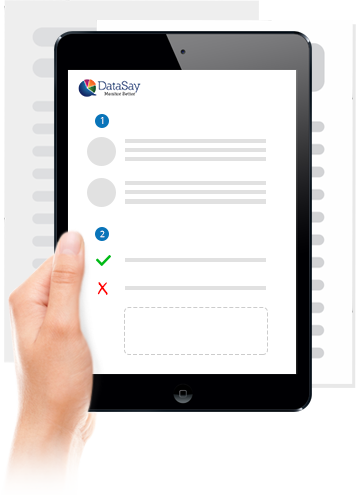 Implement performance standards
Monitor your progress and outcomes
Create and conduct any review type
From a simple playground inspection to a comprehensive annual self assessment. We've got you covered with our simple, easy to use review builder.
Our clients save an average of 25% on standards implementation, monitoring, and self assessment efforts. You can too!
DataSay is a technology company on a mission to build monitoring solutions that ensure a safe, productive, and quantified world.
10+

Years implementing monitoring and self assessment solutions

20K+

Onsite reviews conducted

60K+

Findings tracked to better outcomes
Powered by our team's technical expertise and systems. Align your goals and outcomes!
Join Us